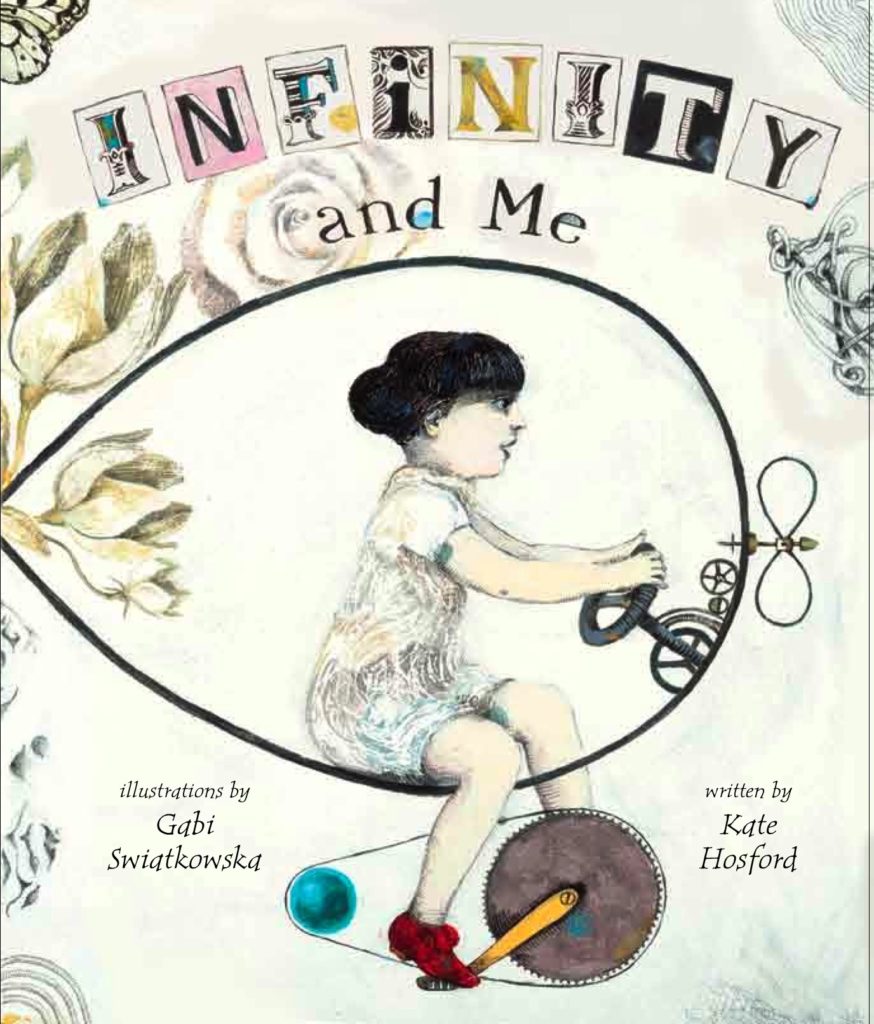 When I looked up, I shivered. How many stars were in the sky? A million? A billion? Maybe the number was as big as infinity. I started to feel very, very small. How could I even think of something as big as infinity?
Uma can't help feeling small as she peers up into the night sky. She begins to wonder about infinity. Is infinity a number that grows forever? Is it an endless racetrack? Could infinity be in an ice cream cone? Uma soon finds that the ways to think about this big idea might just be…infinite.
Infinity and Gabi and Me
I first met Gabi Swiatkowska eleven years ago in an illustrator's group focused on picture books. The first time I saw her artwork, it literally took my breath away. Gabi has a wild imagination and drawing skills that allow her to render exactly what she sees in her head. (If you would like to see more of Gabi's artwork, check out her website at www.chocolateforgabi.com) As the years went on, Gabi and I became friends, and I began to spend more time writing, and less time illustrating. My interest in picture books continued, however, and I hoped that eventually, I would be able to break into that market as a writer.
When my own boys were about four and six, we would talk about infinity at home. I searched for picture books on this topic, but they didn't seem to exist. That's when I got that tingly feeling that happens when you know that you might be on to a good idea. What was stopping me from writing a book about infinity? Just to be sure that I wasn't basing the infinity interest level on a focus group of two, I also visited the classrooms of children from kindergarten through second grade to see what they had to say about this concept. Here are a few of their thoughts:
"Infinity is a number that is supposed to be the last number but it isn't really the last number because numbers go on and on."
"Infinity is a place where you can't stop counting."
If you start counting to infinity, you will die and you will still be counting."
"Every other number has a pair, like one has negative one, and two has negative two, but with infinity, infinity and negative infinity are the same thing."

"Infinity is when you ask what is outside of a galaxy, and then outside of that, and on and on."
After talking to these children, I had no doubt that a book about infinity would find a receptive audience. I knew that it would be helpful to refer to these quotes if potential publishers doubted whether the topic was age-appropriate, and I also interviewed teachers and librarians who encouraged me to explore this subject.
Back in my writing studio, I tried rhyming versions of the story and many different prose versions, but all the while, I was picturing illustrations in my head by Gabi. When I finally got an acceptable version of the story together, I sent it off to her, asking if she would be interested in illustrating the story. Not long after, I received a beautiful little dummy in the mail. Here are the first two spreads:
It was thrilling to see these ideas about infinity in sketch form. Gabi had captured the contradictory jumble of emotions that infinity inspires. The main character, Uma, is fearful, overwhelmed, skeptical, pensive, and eventually thrilled when she is able to find her own definition of infinity. When I look at the final art for the book, I wouldn't change thing. Here is how Gabi ended up rendering the two images above:
By the time this book was published, I had already done my other two books with Lerner (Big Bouffant, and Big Birthday). I will always be grateful that my publisher let me do books that were very different from one another, and that I had the chance explore this unusual topic in a picture book.
Gabi and I hope that Infinity and Me will broaden the way that children think about infinity, not only as a mathematical concept, but as a philosophical concept as well. If something unfathomably big exists, what does that say about us and our place in the universe? This is the sort of existential question that children begin grappling with at a young age.
Hopefully, this particular marriage of words and illustrations will provoke many different conversations about what infinity is, how it makes us feel, and how each of us can find our own way to imagine the concept. I hope that children and adults who read this book write to me and tell me their thoughts about infinity. I will post their comments anonymously.
I am also pleased to share the infinity curriculum that I've developed, which will be on the site soon. I hope that parents, teachers, and other educators may find the curriculum useful. If you end up doing any of the activities, please let write to me and let me know which ones you enjoyed. I look forward to hearing from you!
Best,
Kate
Honors and Awards
A 2014-15 Morning Calm Medal Elementary Picture Books Nominee
A 2013-14 Maine Chickadee Award Nominee
A 2013-14 Red Clover Award Nominee
A 2013 SCBWI Crystal Kite Member Choice Award finalist
A 2013 American Library Association Notable Children's Book
A 2013 Bank Street Best Children's Book of the Year
A 2013 Capitol Choices Noteworthy Book for Children Nominee
A 2013 Cook Prize Finalist honoring a STEM picture book
A 2012 New York Times Best Illustrated Book Winner
A 2012 Cybil Award Finalist
A 2012 Junior Library Guild Selection

Reviews
New York Times
Kirkus review
Seven Impossible Things Before Breakfast
Publishers Weekly
Wrapped In Foil
NC Teacher Stuff
The Horn Book:
"To many young children, infinity is just a word that may be used to max out a quantity and end an argument. But at some point, kids will try to wrap their minds around the actual concept, and this ambitious picture book will help. Looking up at the endless stars, Uma feels "very, very small" and begins to think about infinity. She asks around—friends, Grandma, teachers—and receives a formidable potpourri of interpretations and explanations. Uma is overwhelmed by the mental exercise, and her musings and worries are perfectly childlike ("Maybe I could lick an ice-cream cone forever, but what if my tongue started to hurt?"). Grandma brings Uma back to reality with a compliment on her new red shoes that she's been waiting for all day, and Uma lands on her own practical understanding of infinity ("my love for her was as big as infinity"). Even for adults, this is an enormously complex idea—scientifically, mathematically, philosophically—but Hosford smoothly distills it to a manageable serving that will both engage and challenge kids. Swiatkowska's art, too, is remarkable at this elucidation, illustrating the text literally but with appropriately disorienting and surreal details that combine to whimsical, visually stunning effect. An author's note provides some background on the concept's history as well as quotes from real children on what infinity means to them."

–Katrina Hedeen

School Library Journal:
"This unusual, philosophical picture book makes this seemingly difficult concept approachable and interesting. Young Uma ponders the concept of infinity with the help of friends and family. She finds that the idea can be mind-boggling, but seems less scary when considered in loving company. The story effortlessly combines the enormity of the universe with the frankly personal, as represented by Uma's pride in her new red shoes. Characters define infinity with charming and age-appropriate examples, from a family tree that goes on forever to a never-ending ice-cream cone. A fascinating endnote lets youngsters hear the voices of real children explaining infinity and challenges readers to define it for themselves. Swiatkowska's whimsical, surreal, old-fashioned paintings are well suited to the subject matter. Her art also grace Ilene Cooper's The Golden Rule (Abrams,2007), another thoughtful picture book, which would combine well with this one. This quiet jewel is sure to spark contemplation and conversation among readers."

–Heidi Estrin, Congregation B'nai Israel, Boca Raton, FL
Interviews and Blog Posts
Brain Pickings
El Space–The Blog of L. Marie
Cynsations
Archimedes Notebook
Writing with a broken tusk
Interview: JLG's Susan Marston Talks about the Hottest Upcoming Books for 2012
Nerdy Book Club
This Picture Book Life