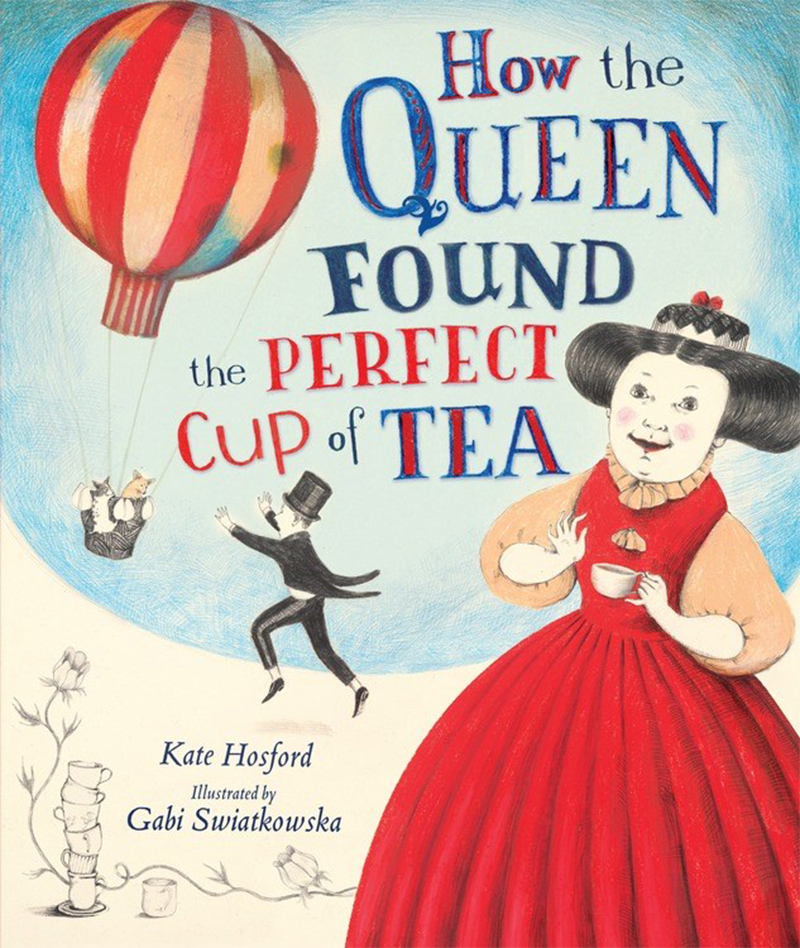 Activities the Queen most certainly does not do: strenuous kitty
snuggling, vigorous soccer dribbling, spirited
dancing, making tea.
Until one day, she grows dissatisfied with the tea her butler has prepared, and a culinary and cross-cultural hot air balloon adventure begins.
The Perfect Cup of Tea
I have always loved drinking tea, both at home and in other parts of the world. I once spent an afternoon with a family that I met at the top of a Turkish mountain. We drank black tea and talked for hours, although I did not speak Turkish and they did not speak English. How did we understand each other? I'm not sure, but we did. Perhaps that is the magic of tea.
Over the years, I've learned that making tea for someone else is one of the most important things any of us can do. Tea slows down time, improves conversation, and makes your guest feel cozy and relaxed. My friend and collaborator Gabi Swiatkowska is not only an excellent illustrator, she is also a master at making tea. Her kettle is always on the stove, and my teacup was refilled over and over at her kitchen table in France this summer. When she comes to New York, I save my prettiest tea cup for her. I hope we will still be making tea for each other when we are old ladies.
When I first decided to write this book, I had an image of a spoiled Queen drinking tea by herself, and growing more miserable every day. I knew right away that she would have to go on an adventure to find the secret to the perfect cup of tea. The children she meets in Japan, India and Turkey teach her how to make tea, but also teach her to be more open-minded, independent, and generous. As the Queen learns, the perfect cup of tea is the one you make for someone else—a simple act of kindness that might just start a friendship.
Reviews
Publisher's Weekly
Kirkus Review
School Library Journal:
"The creators of the thought-provoking Infinity and Me are back with a tale of a pompous queen who travels around the world to find what she is missing at home. Every morning, the queen wakes up to a team of helpers who dress her, brush her hair, and—most important—make her tea. As her tea begins to taste progressively worse, she demands that the butler escort her via hot-air balloon to different countries in search of the perfect cup. The queen visits children in Japan, India, and Turkey, who treat her as just another friend. After snuggling with one child's kitten, playing soccer with another, and dancing with the third, she requests a cup of tea from each child. The queen admits that they all taste better than her own, and eventually realizes that while tea leaves are important, friendship is the secret ingredient her brew was lacking. The book concludes with the entire group of friends meeting at the palace for a tea party with the new and improved queen. This book is a delightful multicultural experience, with text and illustrations that complement each other. The colored pencil drawings capture the whimsy of the world tour while offering intricate details. The facial expressions of the queen, who takes herself much too seriously, are juxtaposed with those of the sweet children, who are completely unimpressed by the monarch's royal status. Each visit includes pictorial instructions for how tea is made in each culture. The story will appeal to a wide range of ages, as young ones will take to the adventure and characters, while older ones will benefit from learning about the lives of children from other countries. VERDICT Beautiful and charming, this addition will entice a variety of readers and could be useful during lesson planning."

–Lindsay Jensen, Nashville Public Library
Interviews and Blog Posts

Batch of Books
Cynsations
El Space
Mom, Read It!
Crafty Moms Share!
Mr. Schu Reads
Sorority Sisters