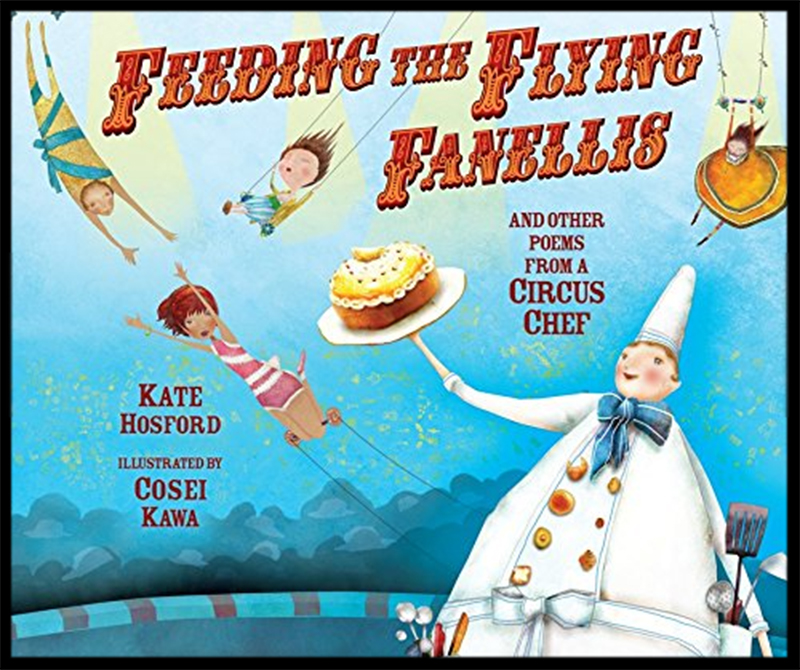 What do you feed a trapeze family to keep them up in the air? A fire eater with a penchant for hot sauce?
Or a lion with a gourmet palate? How do you satisfy a sweet-toothed human cannonball who's outgrowing his cannon?
Find out what keeps these performers juggling, balancing, and entertaining—meals prepared by their tireless chef! Enjoy a front-row seat for this whimsical look at circus life that just might make you hungry.
Why Circus Chefs Feed My Imagination
Before I became interested in chefs, I first became interested in the circus. I was lucky enough to attend performances by the Vermont-based Circus Smirkus almost from its inception. In 1989, my father arranged for a US/Soviet Georgia circus exchange through his non-profit organization, Project Harmony. Over the years, I watched Circus Smirkus grow from a small home-grown circus to the nation's premiere youth circus, featuring both American and international performers. Unfortunately, all of this happened after I had left college, and I was not able to actually join the circus. Otherwise, I would have tried to become a circus acrobat!
My interest in chefs probably resulted from the fact that I developed food intolerances in my thirties and had to start living on a restricted diet. Food suddenly became a complicated part of my life, and I fantasized about a chef who would cook everything I needed, leaving me free to think about other things. Around the time the food intolerances developed, I wrote my first picture book story called The Little Chef, and then a second called Rooftop Circus. Neither of those projects ever went anywhere, but I was starting to identify topics that were interesting to me as a writer. Years later, when I was getting my MFA in Writing for Children and Young Adults at Vermont College of Fine Arts, it finally occurred to me that I should combine these two topics.
During my first semester at Vermont College, I started researching actual circus chefs, and came across this article on Barnum & Bailey chef Michael Vaughn: http://articles.philly.com/2010-02-25/news/25219637_1_pie-car-circus-crew-special-occasions
It was these lines that got me thinking:
"He's fielded some odd requests in his time, from Russian crew members who put mayonnaise on every dish, to Trinidadian stilt walkers who live off ketchup. Under these conditions, a cook has to be able to handle anything, even if that means seeing a finely cooked filet mignon drowned in store-bought condiments."
I loved the thought of a chef catering to all the quirky requirements that circus performers might make. What if the performers had issues which made feeding them difficult? How would the chef rise to the challenge?
First semester at VCFA, I attempted to write about a circus chef in picture book format, and even briefly considered writing a non-fiction picture book about circus chefs. However, I couldn't come up with anything that worked. I then put the project aside and kind of forgot about it. Third semester, I was writing my critical thesis and frantically trying to come up with a workshop submission. I decided to go back to the circus chef idea, but this time try it as a series of poems from the chef's point of view. Once I chose this format, the project came together fairly quickly. I had a fantastic time thinking about circus personalities and the strange problems that the chef might have to overcome in order to feed them. I then spent the next four years revising.
One of the best parts about promoting this book has been collaborating with Circus Smirkus. I reached out to them to see if their performers could tell me about the favorite dishes their circus chef cooks for them. The result was this video which has become my book trailer. I feel very attached to all of these characters: Hugo the Human Cannonball who is having a career crisis, the homesick strongman who misses his Ukrainian grandmother's food, the Flying Fanellis, who are always on the verge of a sugar crash, and all of the others as well. I feel especially attached to the hard-working chef who has to deal with a baffling number of special requests every day.
I think the Cosei Kawa's dreamy surrealistic illustrations are a good match for this book, partly because they contrast with the very practical concerns of the chef, who is just trying to get his performers fed. Here is one of my favorite illustrations of Hugo before he changes careers: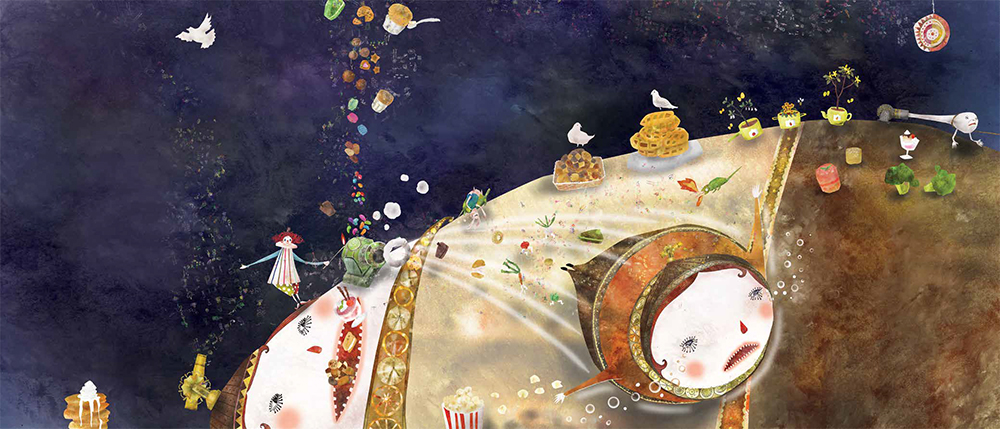 I hope when children read this book they will see that the circus troupe is a type of family; although many of the performers drive the chef crazy, he still shows his love for them by trying to cater to their various needs, no matter how strange they are. In the last poem in the collection, all the circus performers sit down together for a summer feast. It's one of my favorite illustrations in the book: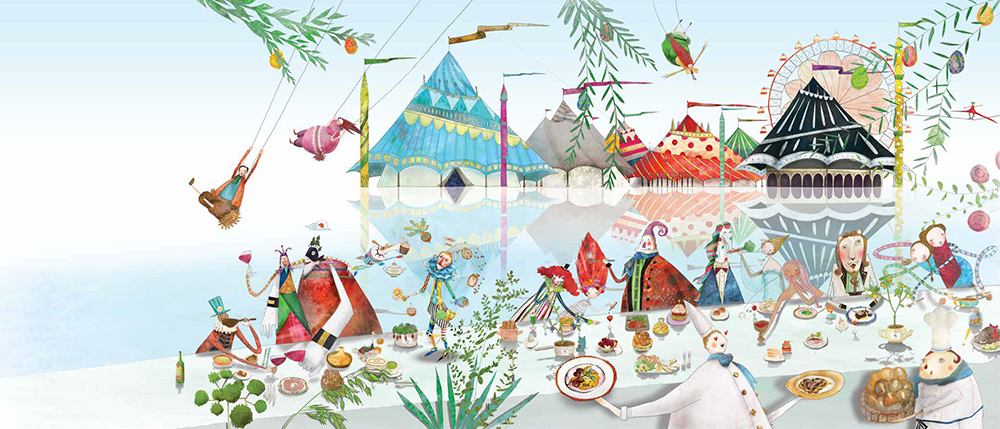 Honors and Awards
2016 Lee Bennett Hopkins Poetry Award Honor Book
2016 Independent Publisher Book Award Bronze Medal Winner
Reviews
"Everyone needs to eat, even circus acts! In this charming collection of poems, a circus chef waxes lyrical about the whimsical meals he must prepare for those who perform under the big top. "My days are long and sweaty, and the chaos never ends. / But still I find I'm most content when cooking for my friends," declares the chef. Keeping performers well-fed and happy is a challenge. However, this chef is up for it, as his quirky poems attest. A rhyme or two may sound forced—for instance, for the homesick strongman from Ukraine, "I made him vushka and some tea / From his babushka's recipe"—but for the most part, they delight. "The lion is a true gourmet" and a demanding diner. "First comes antelope pâté, / Followed by a consommé. / His entrée is a wild boar. / He wolfs it down and roars for more." As for the book's namesake, the Flying Fanellis, "They only ask for lemon cakes / To fill their fearless bellies." Readers should save their biggest applause for the illustrator. Kawa's mixed-media palette is as magical and over-the-top as any circus experience. Dreamlike sequences are portrayed in rich, vibrant colors. Fantastical scenes pan, track, and tilt: top-down, down-up, up-close, and faraway. Don't miss the tiniest details, from flaming teapots to vegetables on legs. Enjoy a ringside seat and be enthralled by a circus that's like no other." (Picture book/poetry. 5-9)

— Kirkus Reviews

"Feeding the circus is a tall order, a boyish chef with the face of a porcelain doll reveals. Hosford's nimble wordplay describes the demands of the circus's hungry, finicky, and sometimes overindulgent performers: a juggler can't be served anything round ("He's growing thin; his plate is bare./ All his food is in the air!"), while a goateed, suit-wearing lion is revealed as a gourmet: "First comes antelope pâté,/ Followed by a consommé." Kawa's exuberant illustrations easily keep pace with Hosford's rhymes, conjuring a memorable cast that also includes a soup-loving dog, homesick Ukrainian strongman, and picky tightrope walker. It's a highly enjoyable and inventive blend of circus feats and culinary treats." (Ages 6–9)

— Publisher's Weekly

School Library Journal:
"Employing cheerful rhymes of varied pattern, the book's narrator, a chef and poet, describes the culinary tastes of the Flying Fanellis and other colorful circus entertainers. The ringmaster has no time to sit down for meals. "Inside of his hat is a picnic I made—/Salami and mustard, a mini baguette." The homesick strongman from Ukraine gets "vushka and some tea/From his babushka's recipe." Readers are also introduced to the juggler, a dog named Little Blue, the contortionist twins, and more circus stars. Like the poems, the mixed-media illustrations are comic and whimsical. Kawa's collage and drawn figures are set against nicely washed backgrounds in many hues. Often long and slender of limb and round in body, the cartoonlike performers resemble puppets or other toy figures. The clown and the human cannonball are presented as circular bodies framing heads, and the ravenous lion is a bit surreal, appearing as a jacketed human with a moustache and goatee, his pointed ears poking through a wig. Tiny details scattered across each scene add humor but are so small that they might be easily missed. There's just a bit of a story with Hugo, the sugar-addicted human cannonball, becoming a pastry chef in the end, and there's a final summer feast gathering of all the characters at a long table, circus tents behind them. VERDICT Though the busy scenes won't quite work for group use, they don't keep the verses from being fun, read-aloud choices, and librarians and educators will find this a useful resource for sparking thought about the circus, food preferences, and poetry writing." (Gr 2-4 -)

–Margaret Bush, Simmons College, Boston
Interviews and Blog Posts
Publisher's Weekly
The Launch Pad
WhatWasOn
Cynsations
Jama's Alphabet Soup
NC Teacher's Stuff
Once Upon A Story
Miss Marple's Musings
Videos and Photos
Circus Smirkus Book Trailer
San Francisco Circus Center Youth performers talk about their favorite foods
Instagram
Trapeze Act
Strap Act
2014 Winter Showcase